Unlike Jazz and Classical Music education programs, respectfully, there are far fewer funding sources and endowments when it comes to supporting nonprofits with a focus on Blues pedagogy.
​
By making Blues Kids Foundation your charity of choice and pledging your tax-deductible contribution, today, you will help ensure cultural, social and emotional enrichment opportunities for Blues Kids. Your support helps sustain current programs and establish new ones for student musicians, parents and community members. Music programs, in general, are too often undervalued and underfunded.
​
"Donors can deduct contributions they make to you [Blues Kids Foundation] as provided in IRC Section 170. You are also qualified to receive tax deductible bequests, legacies, devises, transfers, or gifts under IRC Sections 55, 2106, and 522."
- Department of the Treasury, Internal Revenue Service
​
Tips on how you can become a Strategic Partner:
• Ask your HR department about their Matching Gift Giving program.
• Host a fundraiser or special event at your home or favorite venue.
• Volunteer at our events.
• Be creative and think of something cool.
• Spread the word about us.
Saturday, October 30, 2021
Americanos | 11060 S. Western Avenue in Chicago
Click here to register. It's free!
Blues Fest Family Day was created by Fernando Jones to be a free, all ages, all-inclusive family and community welcoming event during this pandemic time. Hands-on music instrument workshops for entry, intermediate and advanced level musicians will take place in the morning with concert performances in the afternoon for all. Adult "weekend warrior" non-pro musicians are also encouraged to sign up and join us, too.
As a "soft fundraiser"a percentage of the proceeds from food and beverage sales, that day at Americanos, will benefit Blues Kids Foundation, a 501(c)(3) nonprofit charitable organization. For more information on how you and yours can be involved visit BluesKids.com/Chicago. Throughout the year, Blues Kids Foundation presents Blues Camp(s) and workshops for youths and adults, internationally, at no cost to the participants. If interested in making a donation or becoming a strategic partner visit BluesKids.com/Give.
​
​
The Blues Angels
Blues Kids Foundation International Partners
Mary Barnes Donnelley Family Foundation | Lefort-Martin Fund | Allstate
Knotty Luxe Arts Foundation | Brookins Funeral Home | Matthew's Childlren's Foundation
Chicago Community Trust | Columbia College Chicago | Jim Dunlop USA
Chicago Federation of Musicians (Local 10-208) | D'Addario Foundation | Hohner
Facebook / Network for Good | Dr. Eddie Bleier & Friends | Tom Liebman | Shure
The Rotary Club of Winnetka-Northfield | Edward G. Irvin Foundation | The Gray Realty Group
The Chicago Metro Chapters of Kappa Alpha Psi Fraternity, Incorporated
​
Blues Kids Foundation Friends
NAMM | Fender Musical Instruments | DCASE | Navy Pier Chicago
Chicago Public Schools | Chicago Police Department | Pullman Community Center
Chicago State University | A Sound Education | Tokyo School of Music and Dance
WGN TV | Logan Center for the Arts (University of Chicago) | IL Blues Magazine
Tennessee State University | Los Angeles Unified School District | Blues Foundation
Downbeat Magazine | Old Town School of Folk Music | Hard Rock Cafe Chicago
Bruce Iglauer | School of Rock (Oak Park, IL) | Reggie's Rock Club
Community Partners
Thanks for making us your charity of choice.
​
Give without remembering.
Four Year International Partner • $250K
Two Year International Partner • $150K
One Year International Partner • $75K
One Year National Partner • $50K
Partner of the Week • $7.5K
Blues Kid of the Year Partner • $5K
Sponsor a Blues Kid • $2.5K
Musical instruments, performance space
and transportation + lodging donations welcome, too.
​
Fernando Jones' Blues Camp International
In-residence at Columbia College Chicago's Music Center
​
Matching Funds Supporters
Microsoft | FirstGiving.com | United Way | Grainger | Amgen | Toyota | AXA Foundation
​
Photo by Glenn Kaupert
Blues Camp on Around Chicago at Esmond 2:23
02:23
Blues Camp w/Ana Belaval at Esmond (1:13)
01:13
Blues Camp Florida Short News Clip
00:37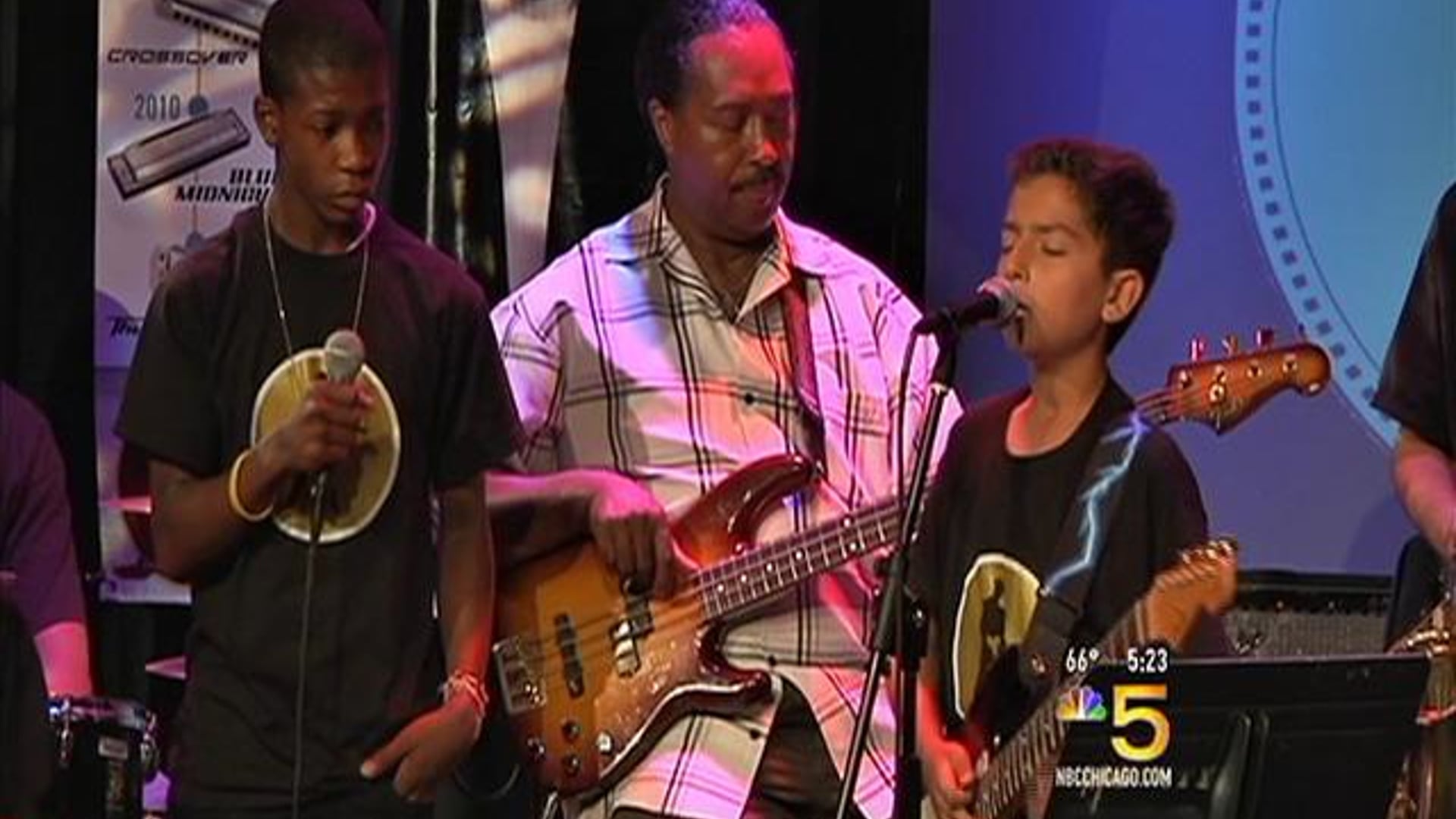 These Campers Aren't Homesick, They Have The Blues
02:18
Blues Camp International Online 2020 on WGN TV
05:55
Welcome to Fernando Jones' Blues Camp by Quincy Rycraw Cochran
00:42
This is my NAMM: Sinbad on Fernando Jones' Blues Camp. BluesKids.com/EarlyBird FernandoJones.com/Bio
00:36
Fernando Jones' Blues Camp Miami
02:35
Fernando Jones' Blues Kids: Meiza
00:16
This is my NAMM: Morris Hayes of New Power Generation (Prince's music director) on Fernando Jones' Blues Camp.
01:07