Blues Camp
Fernando Jones founded Blues Camp, an international organization, and established it Monday, July 5, 2010 on the campus of Columbia College Chicago in the Music Center. Jones said, "It has been a dream since childhood to have a centrally located place where children could come and play the Blues in a user friendly, nurturing environment on a college or performing arts campus."
​
Unlike Jazz and Classical Music education programs, respectfully, there are far fewer funding sources and endowments when it comes to supporting nonprofits with a focus on Blues pedagogy.
​
By making Blues Kids Foundation your charity of choice and pledging your tax-deductible contribution, today, you will help ensure cultural, social and emotional enrichment opportunities for Blues Kids. Your support helps sustain current programs and establish new ones for student musicians, parents and community members. Music programs, in general, are too often undervalued and underfunded.
​
"Donors can deduct contributions they make to you [Blues Kids Foundation] as provided in IRC Section 170. You are also qualified to receive tax deductible bequests, legacies, devises, transfers, or gifts under IRC Sections 55, 2106, and 522."
​
Correct title names to be used for our program:
• Fernando Jones' Blues Camp International
• Fernando Jones' Blues Camp;
• Fernando Jones' Blues Camp Chicago;
• Fernando Jones' Blues Camp (add city, town or country name at the end)
​
Improper sample names of the program:
• Blues Kids Camp
• Blues Camp for Kids
​
Blues Camp culminates in a live stage performance by the Blues Kids at an authentic Blues venue. There, they will demonstrate and present what they have learned in class before their families, friends and general public. Register to audition at BluesKids.com/EarlyBird.
​
"This is a remarkable phenomenon. There's nothing like it, really, anywhere in the United States.
Really, the driving force of it is a remarkable Blues musician named Fernando Jones."
- Howard Reich, Chicago Tribune
In 2019, we will provide tuition waiver scholarships for hundreds of student musicians ages 12 to 18 to attend Fernando Jones' Blues Camp International. Blues Camp is a youth development live music system promoting global citizenship, academic excellence, discipline, collegiality and musicianship with a focus on learning to perform songs by ear. This priceless, cultural enrichment opportunity will take place in a nurturing environment with like-minded others under the direction of highly qualified instructors.
Blues Camp Florida Short News Clip
00:37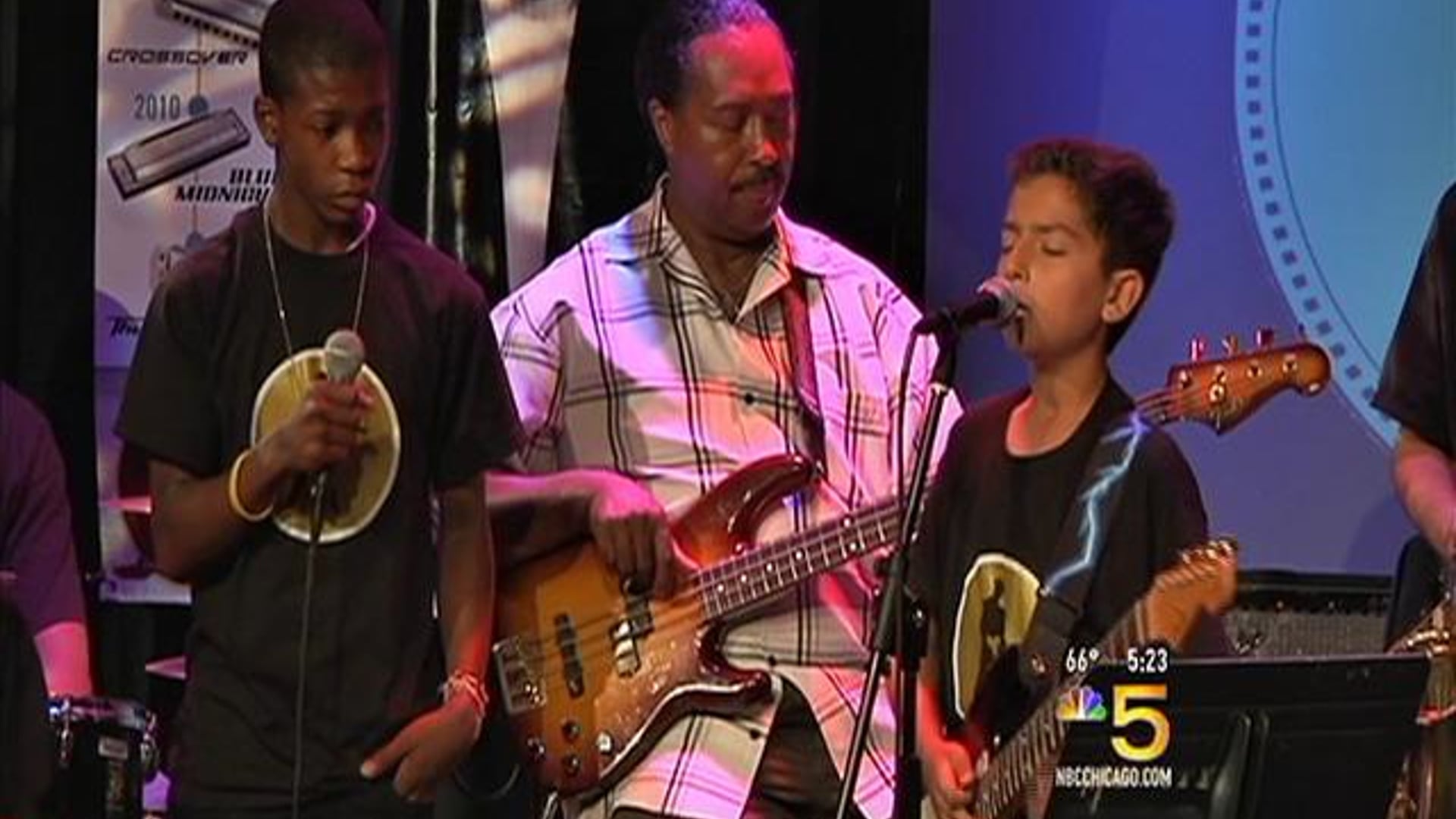 These Campers Aren't Homesick, They Have The Blues
02:18
Blues Camp International Online 2020 on WGN TV
05:55
Goals
Keep Blues youthful and exciting, while preserving and building on the past.

Learn the importance of the Blues from a sociological and historical perspective with a focus on the future, representing student musicians as scholars.

Introduce this American art form to new audiences.

Use critical thinking skills, while collaborating with others.

Apply practical skills learned in class in a culminating activity on stage.

Promote digital learning and embrace technology.
Learning Outcomes
For Student Musicians To:
Improve music literacy.

Learn to play by ear.

Learn to read basic chord charts (reading tabs).

Communicate using cross-generational/regional "Blues" language.

Use proper dynamics to ensure appropriate volume levels for songs.

Accompany vocalist with proper volume control, fills and chords.

Critique and self-evaluate performances and provide feedback to others.

Perform as "one" in an ensemble setting.

Demonstrate basic Blues patterns such as 8-bar and 12-bar Blues.

Demonstrate the call-and-response.

Play songs effectively without guitar or piano solos.

Perform a 15 to 20 minute set of music at a professional level with confidence.

Demonstrate the art of the groove.
Photo by Glenn Kaupert